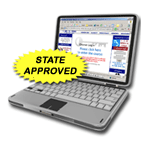 In Florida, any person charged with a moving or non-moving traffic violation that would result in points being assessed to the driving record, may choose to attend a driver improvement course. Exclusions: All criminal violations and CDL drivers who are charged with serious traffic violations while in their commercial motor vehicle. You can choose to attend a driver improvement course only once in any 12-month period and no more than five times in your lifetime.
You must notify the court of your intention to attend traffic school. For exact information and procedures, consult the traffic division in the Clerk's office where you received your citation. (In the phone book, look under your county government listing for Clerk of the Court.)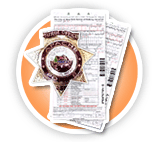 Completing the online traffic school citation course can help you to dismiss tickets while keeping your driving record clean and your insurance rates low. Traffic school, defensive driving, and point reduction courses are available for most states. To determine whether your state, county or court will accept TrafficSchool.com programs, simply visit our Start Course page and follow the directions. If an online traffic school course is not what you're looking for, we also provide a workbook option for many states. The workbook is similar to the online course, covering a wide range of traffic safety topics and techniques. If your job or lifestyle requires a lot of traveling, the workbook would be a great alternative to an online traffic school course.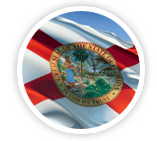 FL Traffic School Can Keep Points Off Your Driving Record
If you have received a FL traffic ticket and are looking for a way to reduce your fines and keep points off your driving record, we offer an online version of Florida's 4 Hour BDI (Basic Driver Improvement) course. Our online course is FL State approved and offers drivers a unique, online alternative to classroom traffic safety education. If you have received a mandate from a FL Court to complete the BDI course, or are interested in completing a state approved Traffic Collision Avoidance Course (TAC), discover the Internet education possibilities of our Florida traffic school.
Taking the Course - Do I need any special software to use this course?
You do not need any special software to use our course. All you need is a Web-Browser and a connection to the Internet. We support Internet Explorer 3.0,4.0, 5.0 and higher, Netscape Navigator 3.0x, 4.0x, 4.5, and higher, AOL 4.0 and higher, and most other browsers. There is no software to download and nothing saved to your hard-drive. Our course uses the Macromedia Flash 4 Plugin. This product is free and can be downloaded and installed at registration. However, you can complete the course without this plugin.
How long will it take me to complete the course?
The course will take a minimum of 4 hours to complete, but you may take as long as you like to complete the course. Be sure to complete the course well before your assigned court due date. This is the date by which you have to submit proof to the court of traffic school completion and is typically 60-90 days from the date you received your citation. For more information contact the clerk of the court.
How long is the final?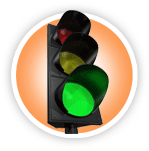 The final exam is composed of 40 questions on course content. You must score 80% or better to pass (32 out of 40). You may retake the exam as many times as needed to pass. The questions will be different, but they will cover the same material. You pay no additional fees - simply retake the exam when you are comfortable with the information covered in our course. You will also have the opportunity to review the chapter information at any time during the course.
Do I need to save my work?
Your registration and payment information are automatically saved. You must finish each chapter quiz completely in order to receive credit for that chapter. Simply login using your driver's license and we automatically keep track of the course work completed, so the next time you log in, you can pick up where you left off.
TrafficSchool.com offers courses for all FL drivers regardless of where you are located. If you need Orlando traffic school, TrafficSchool.com has a course for you. How about traffic school in Miami or Ft. Lauderdale, we can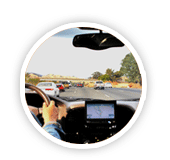 help too. Can't find a Jacksonville traffic school or trafficschool in Gainesville, no problem. TrafficSchool.com offers courses that are accepted throughout the entire state of Florida. Our state approved courses can be taken to satisfy your traffic school requirements for all courts throughout Florida. Now you can stop looking for a Florida traffic school in Tampa, St. Petersburg, or Orlando; TrafficSchool.com can help.
Learn More About FloridaTrafficSchool.com

If you're driving in Florida you'll enjoy our unlimited access to everything you need to drive: FL DMV forms, Florida Drivers License information, FL Driver Ed, Florida Drivers Training, FL Traffic School links, and Defensive Driving for Florida.
Drivinglinks.com: Finding information for Florida driving has never been easier. You can get Florida driving resources online that were once hard to find and only available at your Florida DMV or from the state of FL Department of Motor Vehicles.