Our course is fast and easy to navigate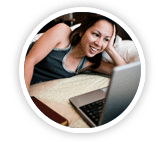 The Florida Traffic School courses are made to accommodate all types of web users, from the novice to the expert. While you do have to complete the 4 hour time requirement, you can log in and out at your leisure, finishing the course in one sitting or over multiple sessions. It is entirely up to you!
Get live customer service
When you have a question or need advice, our online support or phone support will be available to answer any questions you might have.
Approved courses for the State of Florida
If you received a traffic ticket or you have too many points on your record, this Florida State approved course will satisfy your online traffic school requirement for the following reasons: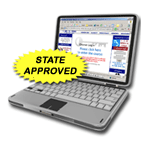 4-Hour Basic Driver Improvement (BDI) Traffic School Course
4-Hour Traffic Collision Avoidance Course (TCAC) Florida DHSMV Referrals
Court Ordered 4-Hour (BDI) Traffic School Course
Florida Traffic School FAQ's
What is the cost of your Florida online traffic school courses?
The total price of the online traffic school course is only $19.00, which includes tax and a DHSMV approved completion certificate. Pay for your traffic school course online with a credit card through our secure server processing form, send in a check/money order, or call our traffic school partner at 1-800-691-5014 and pay with credit card over the phone. You will be given the opportunity to choose which payment option you prefer once you register for the course.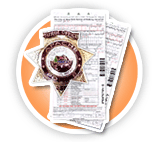 How long do I have to attend Florida traffic school and pay my traffic ticket citation?
In general, you have up to 30 days to pay your traffic ticket from when it was issued. After you pay your ticket, you usually have either 60 or 90 days to finish traffic school, depending on which court you received your moving violation in. To find out exactly what the rules are in that county, you should contact the county clerks office where you received the violation.
Can you help me understand how your online traffic school course works if I have gotten a traffic ticket?
Our 4-hour state approved Internet Basic Driver Improvement (BDI) and Traffic Collision Avoidance Course (TCAC) course can be taken at your own pace online from any computer with internet access (home, work, library, etc.). Using our secure server processing forms, you can register for these Florida traffic school courses online. After reading 7 sections and then finishing a final exam we will mail your completion certificate to the mailing address you provided during course registration.
Is your traffic school program approved in the FL county or FL city I live in?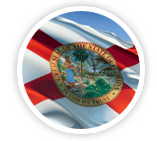 Yes, our online traffic school course is approved in all 67 Florida counties by the Department of Highway Safety Motor Vehicles (DHSMV). So no matter where you received a traffic ticket in the state of Florida, you are able to sign up for our online course today.
How safe and secure is your website?
At FloridaTrafficSchool.com, you can rest assured our Website is completely secure. We use the most up-to-date security technologies including Secure Socket Layer (SSL) protection. The lock icon located in the lower right corner of your browser will assure you that our site is secure. And for your peace of mind, we guaranteed we will not share your personal information with anyone, except your traffic school course provider and the Florida DHSMV. For more details, please view our privacy policy.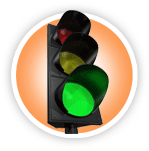 You do not have to complete our course in one sitting unless you want to. Our online traffic safety courses are entirely self-paced, which means that you can finish them all at once or you can log in and log off as littler or as often as you want to. It's completely up to you. If you need to finish the course in one day, you easily can. Conversely, if you have many months left before you need to get done, then you can finish a section a week (or as frequent as you'd like). Our online program always tracks the time spent on each section when you save & log off. When you re-enter your traffic safety course, you will always pick-up where you last left off (rounded to the nearest minute). So basically, the flexibility has been built into our course so that you choose how little or how long you take to complete your trafficschool.
How long will it take me to finish my course?
It will take you 4 hours to complete our online course. Regardless of being done online or in-person, all traffic school programs are required to take 4 hours to complete. This is a regulated requirement of The Department of Highway Safety Motor Vehicles (DHSMV).
When will I receive my certificate of completion?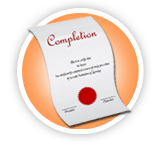 Completion certificates are processed within 3 court business days of completion of the Florida traffic school online course. Depending on the court or county in which you received your moving violation, a completion certificate will either be mailed straight to the court for processing or we'll mail you your certificate to bring in yourself or mail-in to the court. We will inform you of your particular court's requirements after you have finished your online course registration.
What if I don't pass your traffic school course?
No matter what traffic school course you choose (online or otherwise), you always have to take and pass an exam, however, with the FloridaTrafficSchool.com Internet course, we allow you several chances to re-test if you fail. In addition, you have the advantage of reviewing any and all test material before answering any of the exam questions. If you are having trouble understanding the course material, feel free to email our partner at info@trafficschool.com.
Get More out of FloridaTrafficSchool.com

If you're driving in the Sunshine State you'll enjoy our 24-hour access to anything you need to get driving: FL Driver Ed, Florida Drivers Training, FL DMV forms, Florida Drivers License information, FL Traffic School links, and Defensive Driving for Florida.
Drivinglinks.com: You can get FL driving resources on the Internet that were once hard to find and only accessible at your Florida DHSMV or from the state of FL Department of Motor Vehicles.