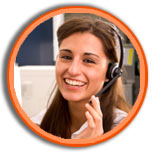 General Help Information
Hello and thanks for visiting our help and FAQ information center. Though most of your questions and concerns should be answered by the information on these help pages, you can also send an e-mail to our partner at info@trafficschool.com or feel free to call them at (800) 691-5014 for further assistance.
Whether you're looking for quality and affordable online traffic school, online drivers ed, or a defensive driving fulfillment course, we can help.
Looking for something more?
We also offer a variety of supplemental products for young drivers and online drivers safety courses for test preparation or to fulfill a work related requirement. Contact our partner via e-mail at
info@trafficschool.com
or call them at (800) 691-5014 for more info.
Using the Help Menu
To find help on a specific topic, simply click a help menu item on the left to view help info for the traffic school or driving school course you need help with.
Disclaimer
The FAQs on these pages relate primarily to the FloridaTrafficSchool.com Website and courses. Please note that some or all of our procedures, pricing, or other content may be different from that of our partner organizations and their Websites and courses. For info or FAQs regarding a partner Websites, please consult those Websites directly.