Traffic School Online for West Palm Beach Tickets
If you were issued a speeding or any 3 or 4 point traffic ticket in West Palm Beach, take our completely online traffic-school program to have your traffic ticket dismissed quickly. Keep the negative points off your Florida DMV driving record without having to pay for a high priced traffic ticket lawyer.

Preferred Traffic School - West Palm Beach

Need to take a 4-hour BDI class in Palm Beach County, including West Palm Beach and the nearby cities of Palm Beach, Riviera Beach, Century Village, Lake Park, Palm Springs, Lake Worth, North Palm Beach, Lantana, Palm Beach Gardens, Royal Palm Beach, Wellington, Boynton Beach, Jupiter, Delray Beach, and Kings Point? Start our Preferred traffic school today and you can be done with your Basic Driver Improvement course in no time, resulting in a sizable point reduction from your DHSMV driving record.
Keep Points of Your Florida Driving Record
If you choose to pay the civil penalty or are adjudicated guilty by a judge, your Palm Beach County driver record will be assessed as follows:
Moving Violations - 3 points
Speeding 15 m.p.h or less over posted speed - 3 points
Speeding more than 15 m.p.h. over posted speeds - 4 points
Passing stopped school bus - 4 points
Moving violation (non-speeding) resulting in an crash - 4 points
Unlawful speed resulting in a crash - 6 points
Reckless driving (criminal traffic violation) - 4 points
Violation of child restraint laws - 3 points

Finish Today Preferred Traffic School
Just a thought: if you begin your West Palm Beach traffic school online course today, you could be done in just hours and a be a giant step closer to fulfilling your traffic school requirement. It's fast and easy, just enroll online, take the class online, pass your final examination online, and before you can say "trafficschool", you'll have fulfilled your traffic school requirement without having set foot in a boring traffic school office classroom. It's Preferred traffic school that you won't be disappointed with!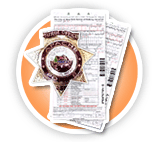 West Palm Beach Traffic School with Ease
Florida internet traffic school is truly easy for even the most inexperienced of computer users and makes dismissing a traffic ticket easy as can be. For most three-point or four-point tickets, you can simply register on our website with your citation information at FloridaTrafficSchool.com. We'll verify your that your violation is eligible for traffic school. If so, simply enroll online and begin your course the same day. Then read some basic yet informational online traffic safety sections, pass some brief chapter tests, pass the final exam (you get multiple attempts) and once you finish, your completion certificate will be processed, and then shortly thereafter, your ticket will be erased from your FL DMV driving record. It's that Simple.
Preferred Traffic Safety School
Never attend a boring classroom or listen to dull instructors when you take Preferred traffic school class from FloridaTrafficSchool.com. Our course is completely online, so you can do everything from the comfort of your own home. From the simple online lessons to the final exam, it is all online, all you need is an internet connection and you are good to go. Furthermore, you can go at your own pace, logging in and out as you need to , going as quickly or slowly as you choose - it's completely up to you and your individual schedule when you choose Preferred traffic school.

Our Preferred BDI Traffic Safety Course is engineered by TrafficSchool.com, the Florida leader in approved FL Traffic School Programs. When registering online, you will be sent over to TrafficSchool.com's safe and secure registration form.