Speeding Traffic Tickets
Don't wait until your court due date has already passed to erase your Speeding traffic citation. If you are in a crunch, enroll today for Florida traffic school and select one of our rush handling options, rush delivery options, and get the confirmation you need with one of our certificate confirmation options. Not in a hurry? Then take your time and enjoy standard certificate handling for free. It's Warp Speed traffic school done right in Miami Dade County. Say goodbye to your Speeding traffic ticket today!

Dismissing Speeding Points on Your DHSMV Driving Record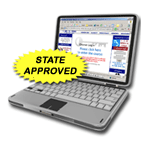 If you get a Florida traffic ticket for a non-criminal moving violation in Jacksonville, Miami, Tampa, St. Petersburg, Orlando, Hialeah, Fort Lauderdale, Tallahassee, Port St. Lucie, Cape Coral, Pembroke Pines and Clearwater, or anywhere in Miami Dade County for that matter (and you are not a CDL driver), you can go to a BDI traffic safety course instead of getting the points put on your FLDHSMV driver's record. In fact, you can drop several 4-point and 3-point infractions from your record, such as Moving Violations (3 points), Speeding 15 m.p.h or less over posted speed (3 points), Speeding more than 15 m.p.h. over posted speeds (4 points), and Passing stopped school bus (4 points). Keep in mind that getting 24 points within 36 months on your driver record can result in a 12-month suspension. Erasing your Miami Beach traffic ticket with our Warp Speed BDI course can keep you driving safer, longer.
Warp Speed TrafficSchool
Are you a night owl or an early bird? Is your lunch hour the best time to complete a task or do you have to wait for your children to go to bed? Our Warp Speed traffic school course is available to you 24 hours a day, so you can login and logout anytime. No need to worry about losing your place because when you logout, our program saves the last section you were working on. Get the Warp Speed traffic safety course in Miami Dade County you can trust to make your life easier.

Our online Florida program is engineered by Traffic School . com, a trusted Florida Traffic School course content provider providing DHSMV Approved classes in Miami Dade County. When registering, you will be redirected to the TrafficSchool.com course registration page to enter your ticket information.

Traffic School for Speeding Tickets
If you received a speeding ticket or any other multi-point traffic violation in Miami Beach, save your driving record with a FloridaTrafficSchool.com approved online course. After passing the course, your ticket will be dismissed and you can keep the points off your Florida driving record, helping you to avoid becoming a 'negligent operator' and having your license suspended.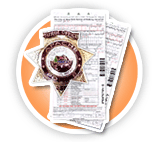 4 hour BDI Course for All of Florida
Searching for a four hour Basic Driver Improvement Traffic School course in Miami Dade County, including Miami Beach and the neighboring cities of Jacksonville, Miami, Tampa, St. Petersburg, Orlando, Hialeah, Fort Lauderdale, Tallahassee, Port St. Lucie, Cape Coral, Pembroke Pines and Clearwater? Register today for our Warp Speed traffic school class and you can complete your BDI course in hours, resulting in a nice point reduction from your Florida DHSMV driver's license.
Traffic School Made Easy in Miami Beach
There are a lot of traffic schools in Jacksonville, Miami, Tampa, St. Petersburg, Orlando, Hialeah, Fort Lauderdale, Tallahassee, Port St. Lucie, Cape Coral, Pembroke Pines and Clearwater, but only one with the trusted name FloridaTrafficSchool.com, and only one that offers everything you need in Miami Beach traffic school:
Totally Online Courses
FL State Approved for Ticket Dismissal
Interactive Lessons that are Easy and Educational
Satisfaction Guaranteed
Helpful Customer Support