Court Approved Tallahassee Traffic School
If you were issued a speeding ticket or another 3-point, 4-oint, or 6-point traffic citation in Florida, most traffic courts will allow you to dismiss your ticket. With FloridaTrafficSchool.com, you can easily take your traffic school online anywhere in Tallahassee. It's not only court approved, it's is educational, fast, easy, and very flexible. With over 15 years in the business and over 100,000 satisfied customers, it's no wonder why we are the clear Florida leader of traffic safety school.

Traffic School Made Easy in Tallahassee

Attending a traffic ticket course in Tallahassee is actually quite simple, when you do it online. Just take a second or two to register with your name, contact info, and Florida traffic citation information, and then you can get started straight away. Decide to pay later if you want, we'll let you complete the entire course up until the final examination, for free. Once you make payment and complete the final, your completion certificate will be issued to you or the court (depending on your county court's requirements). A day or two later your traffic ticket will be dropped and your DMV driving record left without another point. Online traffic school with FloridaTrafficSchool.com is truly simple and fast for drivers in Callaway, Springfield, Lynn Haven, Panama City, and Lake City.
Internet Traffic School - Tallahassee
Looking for a 4 hour BDI Traffic School course in Leon County, including Tallahassee and the surrounding cities of Callaway, Springfield, Lynn Haven, Panama City, and Lake City? Register online today for our traffic school class and you can be finished with your Basic Driver Improvement course in a day, resulting in a reduction of points from your official DHSMV driver's license record.

Internet Traffic School
By taking our Internet traffic school course, you can lower your auto insurance and remove points from your Florida drivers license. Our Internet course is approved by the FL DHSMV and is easy to use. Whether you're on the go or relaxing at home, you can access the course anytime you have access to the internet. We also offer a money back guarantee, so if you're not happy with our course, let us know and we'll issue a refund. It's that simple, it's Internet traffic school with FloridaTrafficSchool.com.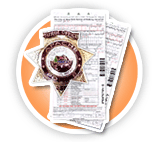 The sooner you get started, the sooner you will be on your way to finishing FL traffic school and having your citation dropped. We also have several optional rush processing, certificate expediting, and court confirmation services available to help you meet your last second deadlines. Enroll online now at FloridaTrafficSchool.com and take the course anywhere in Tallahassee.
Save Your Leon County Driver Record
If you get are cited for a non-criminal moving violation in Leon County, do not have a commercial drivers license (CDL), and your have internet access, you can attend an online BDI traffic school ticket course rather than getting points added to your FL driver's license. In fact, you may be able to remove several 3-point, 4-point, and even 6-point moving violations from your driving record. Why do you want to remove points from your driving record in Tallahassee? Because if you get 12 points within 12 months, 18 points within 18 months, or 24 points within 36 months your driving privilege may be suspended... not to mention your insurance rates almost always increase anytime new points show up on your driving record. Taking a Internet traffic school class can keep you driving and saving money at the same time.

Our Internet BDI Traffic Safety Course is engineered by TrafficSchool.com, the Florida leader in approved FL Traffic School Programs. When registering online, you will be sent over to TrafficSchool.com's safe and secure registration form.